You might recall my collaboration with Sparrows Nest back in 2017- I painted a Prodigal Son mural series in collaboration with Reverend Jamie Scott, the brilliant and admirable Executive Director of Sparrows Nest. So when Rev. Jamie invited me back to live paint their Spring Banquet on February 21, I was more than thrilled!
The challenge that came with painting this event was the time limit: I had 1.5 hours to paint a few studies and an 18x24 in canvas that would go up for auction right away. As far as I know, most event artists will do a little painting at the event and finish it up later, just as long as they have something nice for the guests to look at. Not this time! This time I was under a lot of pressure to make something great FAST, and it was so exciting. No time to think, only time to paint! And if you ask me, I pulled it off. Any guesses on how much the painting sold for?
My wife Katie was shocked when I told her how much it went for. Drum roll please…. $4,500! I will admit, I did clean it up a little bit at home after Katie's reaction… Feels like cheating, but we both feel a lot better about it now!
Sparrows Nest plans on making some prints out of it, so if you got out-bid, keep an eye out for those!
If you're not familiar with Sparrows Nest, you gotta know about the wonderful light that Rev. Jamie is bringing to Athens. What's amazing is he's bringing God's kingdom to a place that poverty strikes. I saw it over and over again while doing the Prodigal Son series and I felt that way again after this event- he's living it so well. It really is an honor to get to work with him and Sparrows Nest.
As for the event itself, the host of The Jules Show on JOY FM, Julianna Smoak, emceed and the great DJ Shockley was a guest speaker. It took place at the Athens Cotton Press, which is a really cool building I had never visited before. I loved all of the artists' graffiti on the walls. I was also really impressed with the people I met that night, especially the Sparrows Nest board members. What a group! What an event!
Endless thanks to Sparrows Nest for having me and supporting Athens in a beautiful and necessary way.
The art donations didn't stop there last month! I also attended, painted, and auctioned off a piece for ESP's Big Hearts Pageant! ESP is a special organization in Athens that I will support endlessly. This is my second year in a row painting this pageant, and I hope I get to continue this growing tradition next year!
This year, I sat in a very different spot up on the balcony and got a new perspective. It's always a fun challenge to paint a similar subject form a different angle!
In true ESP nature, something kind and special happened at the auction- The woman who bought the painting, Laura Whittaker, gave it back to ESP to keep! I love when people do that. A great gesture of love and generosity. Wouldn't expect anything less from the folks at ESP!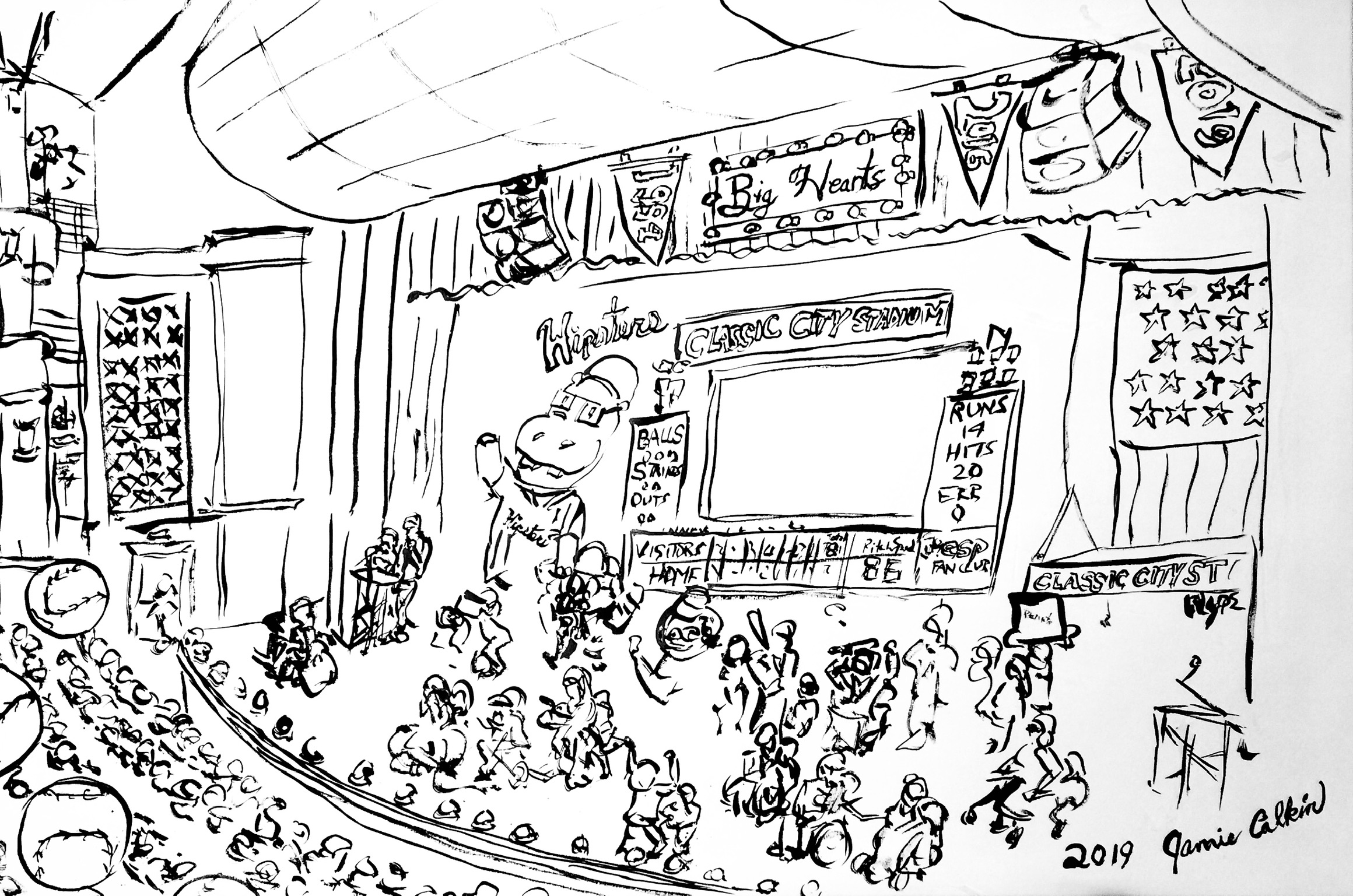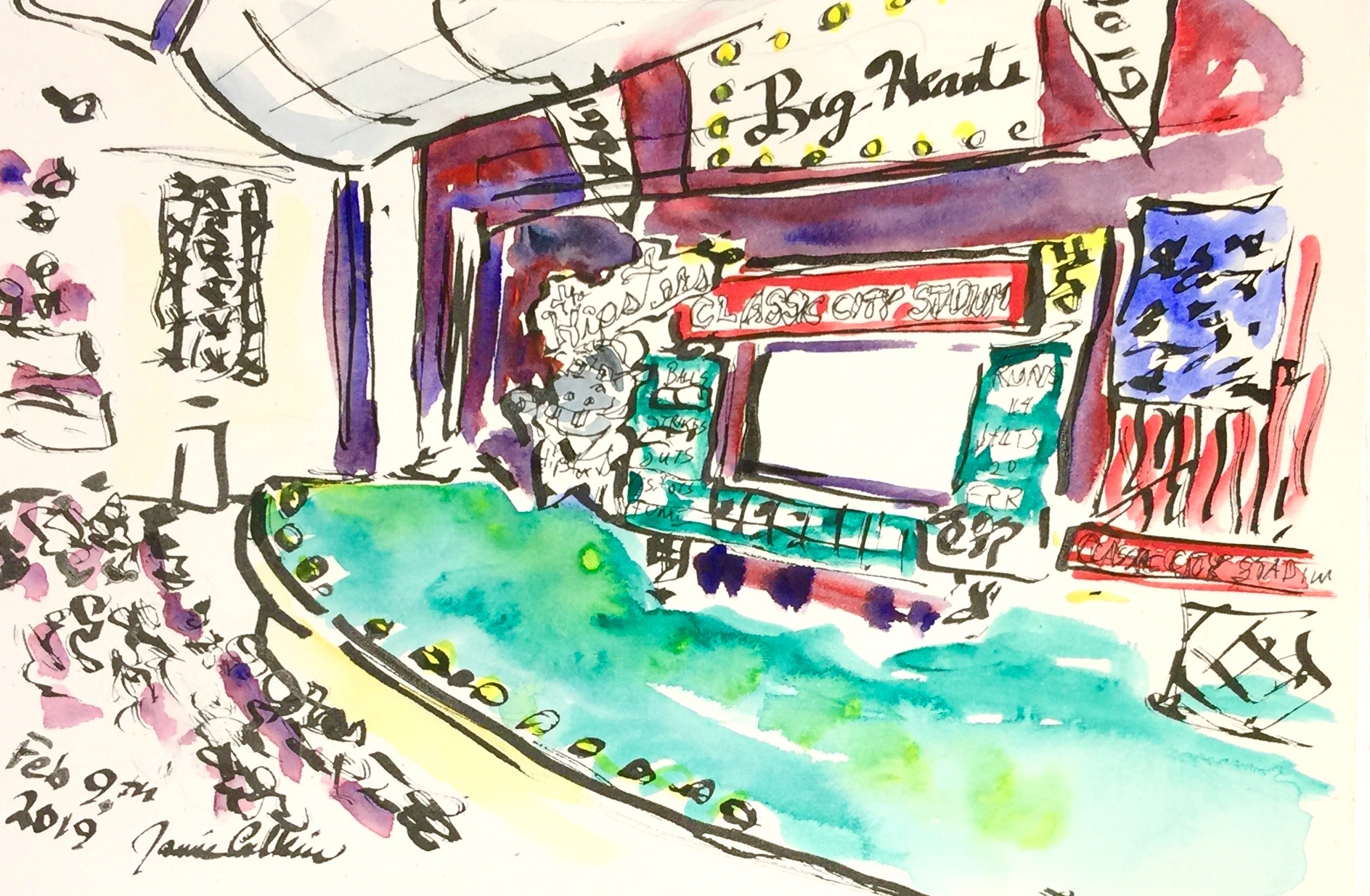 If you have an event you'd like me to paint, please check out my Live Event Art page!